When it comes to double wishbone conversions on existing race vehicles or new builds the upright is often thought to be one of the more difficult elements. Without options on the market builders have often had to turn towards factory uprights, or aftermarket options that are less than suitable.
Brypar's universal uprights can be tailored to suit your vehicle. We will adjust the design of the uprights to suit your suspension and steering pickup points as well as brake caliper you are planning to use.
Both our multi-piece and monobloc upright can have the steering position at any point on the upright, as long as it's not on the same side as the brake caliper. The uprights feature an upper clevis for mounting the upper wishbone and/or the steering pickup. This makes camber adjustment simple and straight forward via the use of shims. All major pickup points are in double shear for added strength, stiffness and reliability.
There are pros and cons to each type of universal upright.
Monobloc
Pros: Light weight. More cost effective to manufacture. Less maintenance
Cons: Design and layout is fixed, so upgrading or using the same upright on both axles can be tricky. Uprights are handed.
Multi-Piece
Pros: Same core upright can be used on all four corners. Easily replace parts when upgrading brakes. Less spares to carry.
Cons: Slightly heavier than the monobloc. More expensive to manufacture multiple parts.
All Brypar uprights are manufactured using high quality materials and components. Get in touch with us today and find out how Brypar universal uprights will transform your race car.
We get asked all the time about groove patterns and what benefit they have to a motorsport brake disc. Brypar allow the complete customisation of disc, including the type of disc groove and the count. This way we can help tailor a disc to suit a particular vehicle, driving style or event.
Brypar offer six distinct groove patterns, all of which can be modified in count to offer specific characteristics.
Plain discs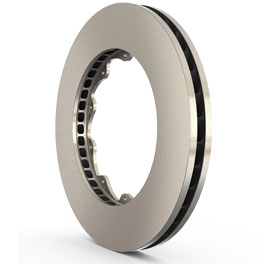 Plain discs use the exact same castings and are machined the same way as all Brypar motorsport discs. A plain disc is usually chosen for a vehicle where grooves are specifically forbidden by the rules (historic), or in certain applications such as long distance races where standard ABS systems tend to generate a lot of heat in the disc face. Disc grooving generates more localised heat in the disc surface.
---
Straight groove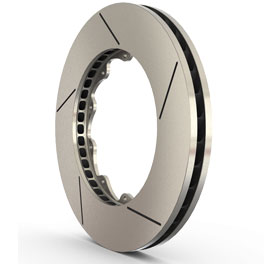 A straight groove is the most basic groove type and is often chosen to replicate an existing disc, such as those used in historic racing, or where a particular pad compound dictates a simple pad wiping feature. Straight grooves can affect NVH more than shaped grooves. If more than 8 straight grooves are required to initiate more bite we recommend looking at a curved or Konic groove which can be a more cost effective option. We offer this configuration with 5 x Straight grooves although this can be tailored to achieve different outcomes.
---
Curved groove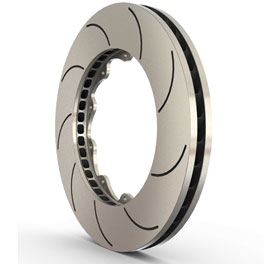 By increasing the length of a groove over the annulus of the disc you are increasing the wiping capability of the disc. While this will increase bite, surface temperature will also increase slightly. A curved groove can also help with evacuating the buildup of pad deposit and gases along the length of the groove. Brypar curved grooves help evacuate hot gases and dust through centrifugal force. We offer this configuration with 9 x Curved grooves although this can be tailored to achieve different outcomes.
---
Konic groove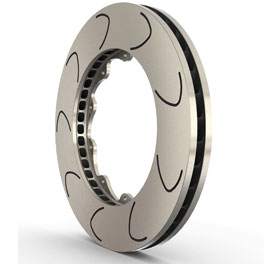 The Konic groove's origins lie in the mathematically driven conic curve. While not strictly a conic Brypar's Konic has been simulated using CFD and FEA to ensure it's shape is optimised for maximum dust evacuation, bite and longevity. The single large Konic is suited to longer distance racing where bite and disc life are prerequisites however pad compound choice is important with softer pads often leaving deposits behind after hard use. We offer this configuration with 9 x Konic grooves as standard although this can be tailored to achieve different outcomes.
---
Konic² groove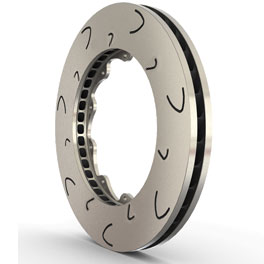 The Konic² groove uses 2 smaller Konic grooves offset over the disc annulus to provide increased bite. This groove configuration works well with a wide range of motorsport pads and racing types, from sprints to endurance racing. Pad and disc life are moderate, although highly dependent on pad compound and general use. This is the go-to groove for most motorsport applications. We offer this configuration with 7 x Konic² (14 grooves in total) although this can be tailored to achieve different outcomes.
---
Konic³ groove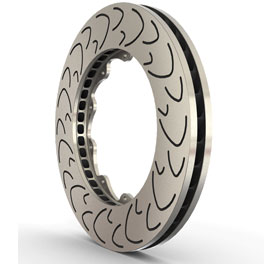 Using a combination of the 3 different Konic grooves the Konic³ is the most aggressive disc groove option available. We would only recommend this groove for qualifying, time attack, or where maximum bite and heat generation are required. The number of grooves can be tailored however we offer this option as standard with 7 x Konic³ grooves (21 in total)

Measuring up an existing motorsport disc can be tricky, however with the right basic tools it's really quite straight forward.
Before you disassemble your disc it's important you have the right tools and bench space available. You will need a bench top that is flat, a tape measure and digital vernier calipers. These are available online or at any hardware store. We use digital verniers as they give a more accurate reading, however the diameter of the disc can be measured using a tape measure as most discs are either in inches or whole millimeters.
When measuring up a used disc it's important to be wary of existing disc wear. A disc measured at 32mm may in fact have been 34mm to start with. Be on the lookout for tell tale signs such as lips on the inner and outer edges of the disc.
Measuring a factory disc
Factory discs tend to be single piece designs making measurement straight forward. Follow these steps:
Once the disc is removed from the vehicle start by measuring details of the hub, including the hub diameter, wheel PCD and fixing PCD. The wheel PCD refers to the stud pattern of the wheels. The fixing PCD refers to the fixing of the brake disc to the hub. Some vehicles will not have any fixing PCD so can be ignored. It is advised to photograph the factory brake setup fully assembled as well as photos of the hub and disc separately to ensure correct fitment.
Once the disc has been removed, place it on your work bench and ensure that the disc can sit flat and true. Ensure all surfaces are clean and free from contaminants. Measure all key dimensions and make notes of any detail that may be required for manufacturing. The fixing type will usually be a counter bore or countersunk hole. Please ensure detailed measurements are given for these areas.
Measure the overall diameter of the disc as well as the disc thickness and overall height. Flip the disc over and measure the overall height in multiple spots to ensure accuracy.
Flange thickness, disc thickness and overall height allows us to model bells with the correct offset so it's important that these measurements are given with 0.1mm accuracy. Please note disc wear can be a factor.
Vane count and air gap are not critical as we will help you choose the right air gap and vane count for your application.
If the disc has any usual feature make a note of them. The more detail that is provided the better.
Measuring a flat disc
A motorsport flat disc can have many more fine details than a factory disc so it's important that accurate measurements are taken.
Once the disc has been removed, place it on your work bench and ensure that the disc can sit flat and true. Ensure all surfaces are clean and free from contaminants.
All key measurements other than OD should be measured using vernier calipers.
Where the PCD fixing is a floating arrangement please add key dimensions of these in the notes. There can be various types of floating arrangements so it's important that these measurements are correct. Photos of the disc to accompany the form will allow to us to contact you with any questions.
Some flat discs have an internal or external step to the PCD fixing. These are usually somewhere between 0.25 and 2mm. Please provide photographs as well as measurement.
Measuring the PCD of the disc is straight forward. Using your vernier calipers measure from the outer edge of one hole to the outer edge of the opposite hole. Then measure the diameter of the fixing hole. Take the first measurment and minus the second measurement. For example if the first measurement across you take is 212.4mm and your hole diameter is 6.4mm, then your PCD is 212.4-6.4 = 206.0mm
Measuring an existing bell
Measuring a bell is straight forward and uses a combination of the measurements taken above. Where it can get tricky is if the bell is a floating bell. The main tip here is to measure the PCD of the disc that the bell came off (see point 5 in measuring a flat disc). Details of your bobbin will also be required. Using the factory disc tips listed above as a guide, and providing photos will ensure bell manufacture is spot on first go.
From production based race cars to late models sports cars, Brypar had a range of motorsport brake discs to suit a large spread of race vehicles. Now that range has increased even further and it's easier than ever to acquire a disc to suit your vehicle.
Brypar has increased their range of available castings so now discs are available as small as 267x21mm right up to 405x40mm. Each disc can be tailored to suit vehicle and driving style, or simply choose one of our predetermined configurations.
Brypar components dominated the results in Pro and Pro-Am at the 2018 World Time Attack Challenge taking out 1st and 3rd overall, 1st and 3rd in Pro and 1st in Pro Am.
The event, hosted at Sydney Motorsport Park, Australia, started with promise with Pro-Am contender Kosta of Tilton Racing setting a PB on the Friday with a 1:25.881. To put this in perspective team owner Kosta, who was driving in the event for the first time in the Pro-Am category, had less than 10 laps experience in the vehicle…. Event favourite Barton Mawer driving the ground breaking RP968 Porsche clocked a low 1:21, well within reach of the event record. What made both these times even more special was the fact that the track was damp and conditions were less than ideal.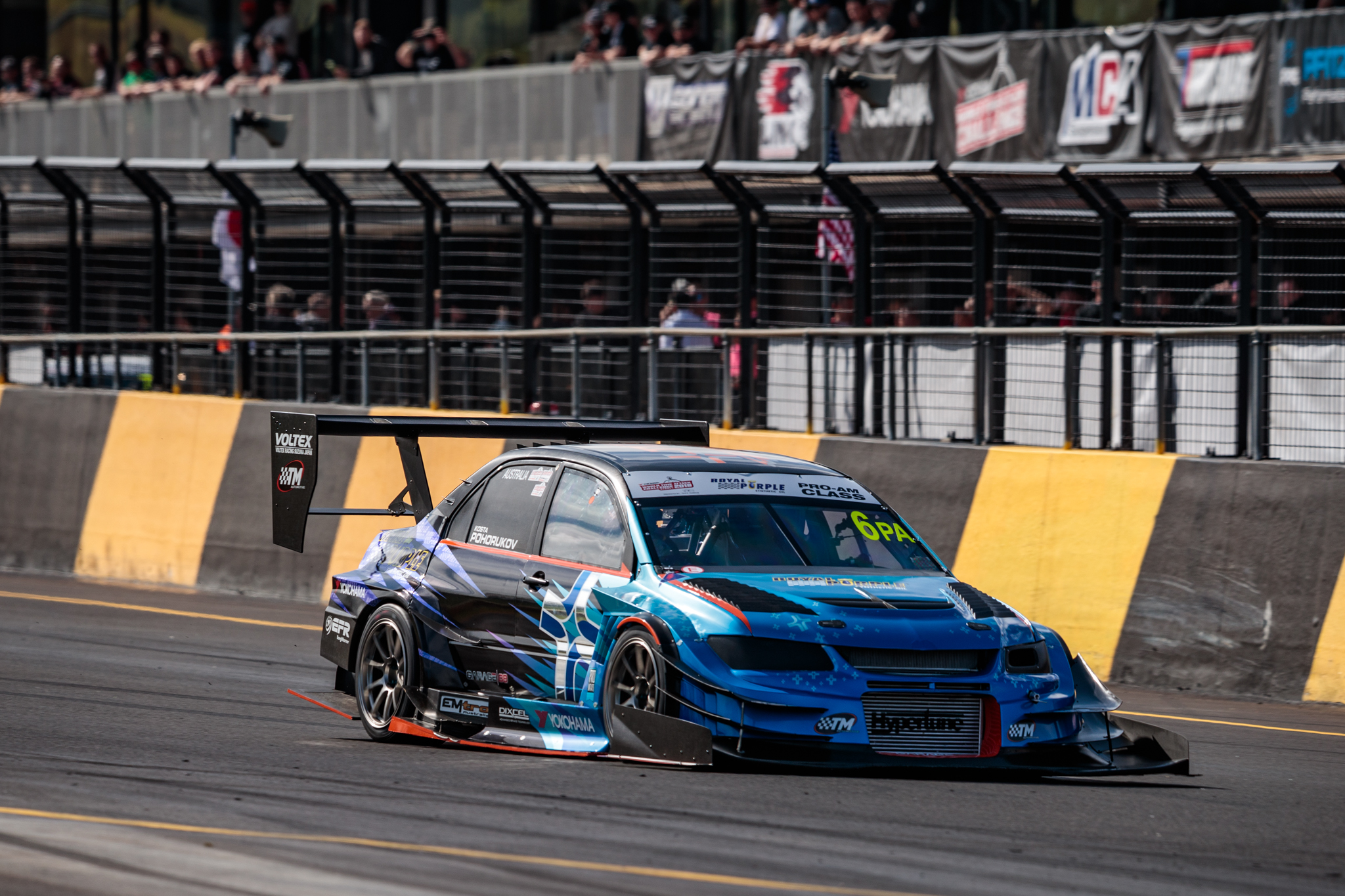 Kosta in his Pro-Am Tilton EVO
The morning of the final day of the event, condition looked promising. The air was cool and the track dry; ideal conditions at the Sydney circuit. Pro-Am driver and Brypar customer Kosta turned the wick up and headed out on circuit to see if he could better his time from the day before. Although his day ended in an unfortunate incident, a new class record was set with a 1:24.63. Featuring custom Brypar uprights and brakes, the car was much easier to drive on the limit than previously.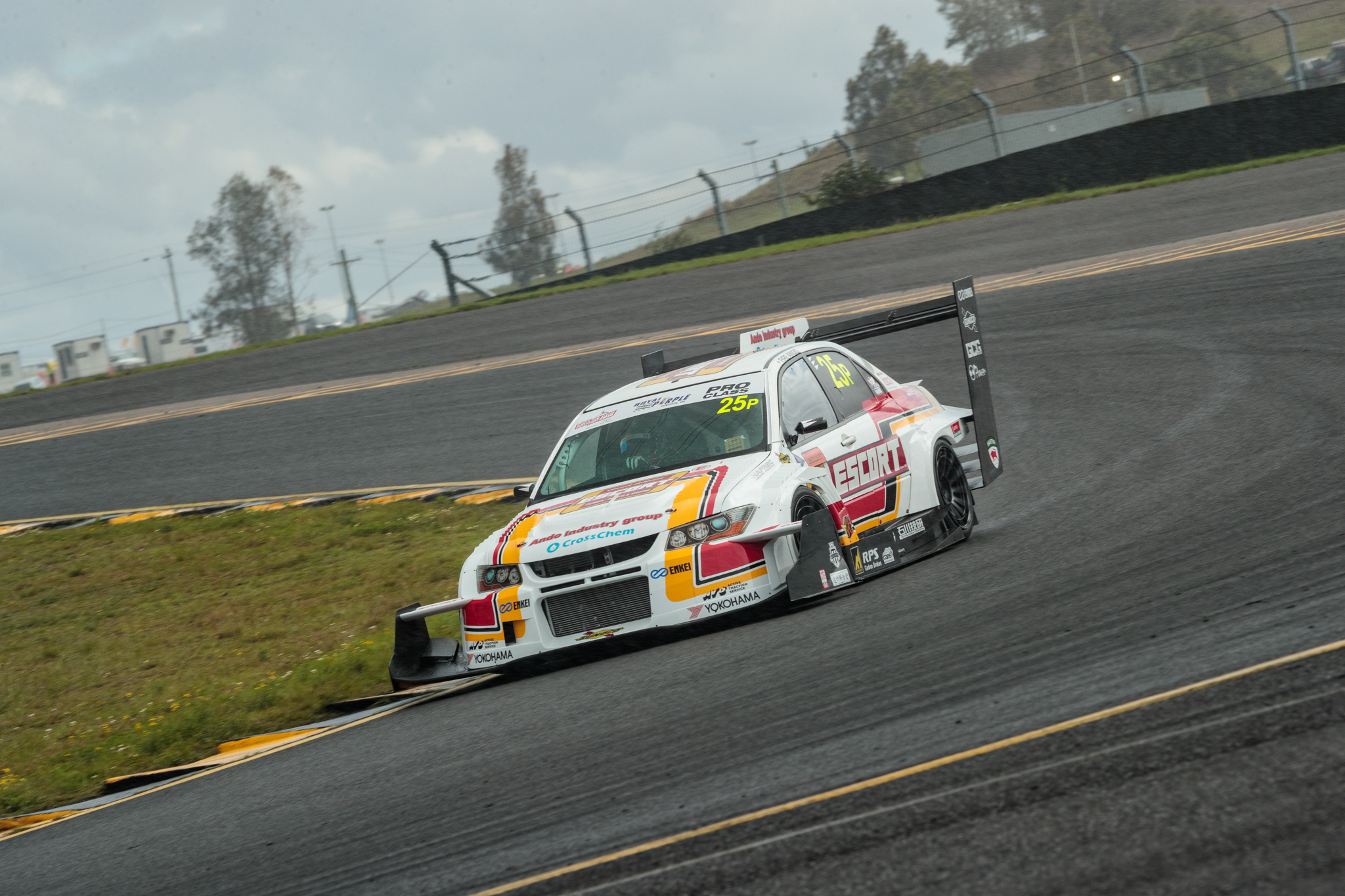 Under Suzuki setting an incredible pace having never set foot in this car.
Team Escort from Japan, sporting Brypar uprights threw crowd favourite Under Suzuki in their car. Within three flying laps he had improved the cars time significantly. Enough for 3rd in Pro and an amazing feat considering he had never driven the car before.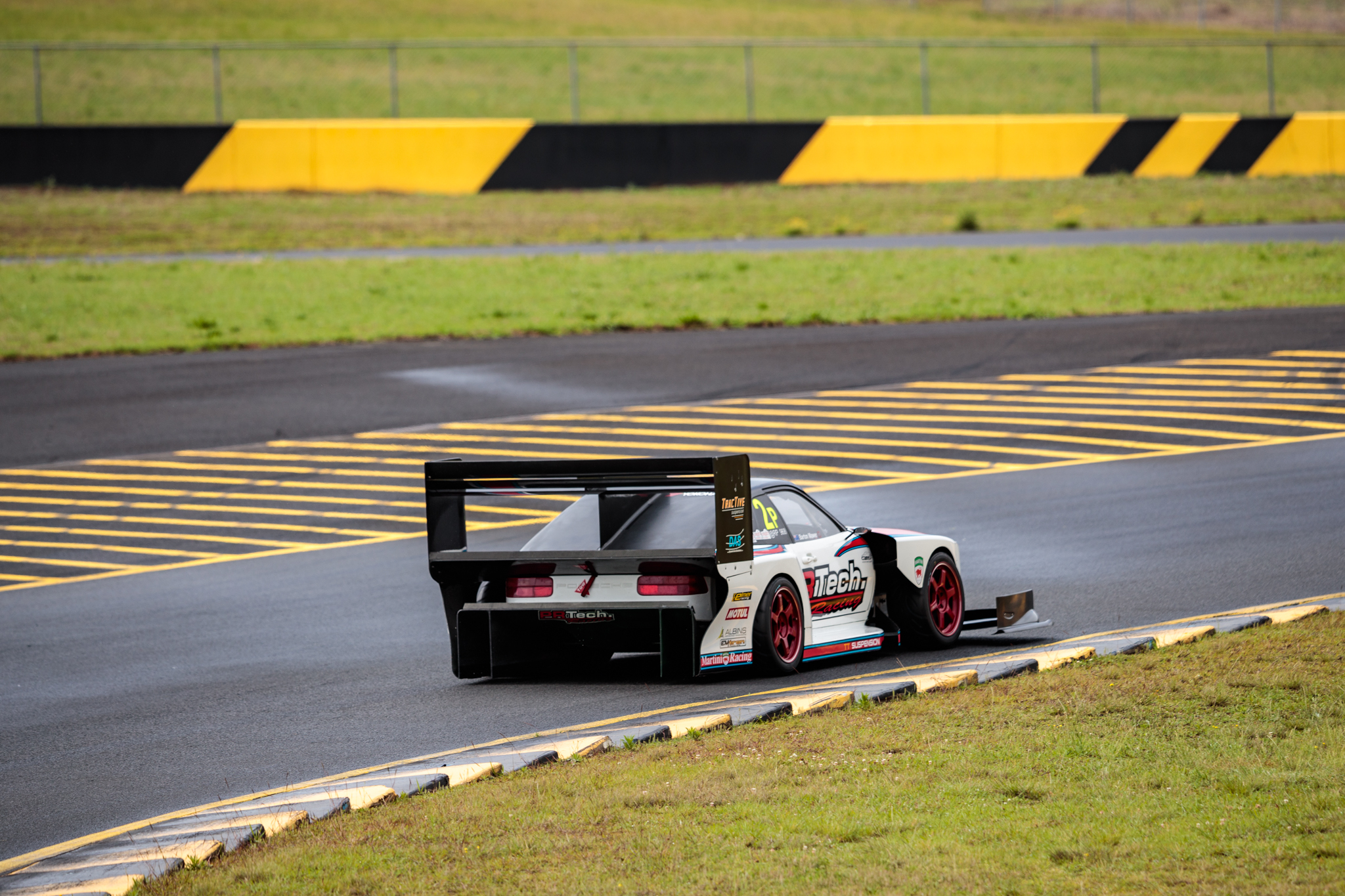 Damp conditions couldn't stop RP968 from taking the win.
All eyes were on Barton Mawer in RP968, with the morning session already proving fruitful for the rest of the field. Mawer set an unbelievable pace, clocking the fastest time ever set by a tin top car and within 1s of the outright lap record, set by Nico Hulkenburg in the A1GP. RP968 set the time on Brypar custom uprights.
WTAC is over for another year but development never stops… see you in 2019.
Thomas Randle crossed the finish line in front three times over the weekend at Queensland Raceway in the National Sports Sedan Series during the Shannons Nationals. The Saab Sports Sedan owned by his father Dean upgraded to Brypar motorsport discs for the round.
"It was a fantastic weekend for the Skye Sands SAAB V8 Sports Sedan".
"The car was reliable all weekend, never skipping a beat. We grabbed pole position in qualifying two, setting a 1.07.13, narrowly missing out on the outright lap record for the category, however I think if we had of put the new tyres on in qualifying one,  a sub 1 minute 7s was possible".
"We crossed the line first in all three races and took the race lap record on Sunday morning after having to start from the back (having been excluded from race one) with a 1.07.3, 2.3 seconds faster than the current Supercars lap record".
Brypar motorsport brake discs can be manufactured to almost any specification, replacing existing discs than can either be hard to get hold of, too expensive, or simply not up to task.
When it comes to braking components Brypar prides itself on leaving no stone unturned. While disc brakes and calipers have been about for over 50 years this doesn't mean there is not more performance to be found whether it be weight, stiffness or temperature control.
Brypar's motorsport brake discs use 6 defining features which not only set them apart from the competition, but also offer small percentage gains in performance. And it's using the same methodology and applying it to brake caliper design that will set the new benchmark in competition motorsport calipers.
Enjoy our sneak peak of what will be following in the coming months and stay tuned.
Australian Rally Championship competitor Chris Higgs approached Brypar regarding a new project for the Australian Rally Championship, a Volkswagen Polo designed and built to AP4 specification. The AP4 class is loosely based on the FIA R5 class with all vehicles to be based on production counterparts using as many production components as possible, including production sourced 4WD drive train. The beauty of the formula is that there are so many different make and model of vehicle that can be homologated, proof of which is in the number of new for 2018 AP4 rally cars being built.
Brypar was to play an important role in the design process as well as undertaking the manufacture of major suspension and braking components. CAMS regulations for AP4 rally cars dictate that all 4 corners use the same uprights. This allows teams to carry less spares and also helps to cut build and maintenance costs, something that is key to seeing more competitors in the ARC. Each upright will be CNC machined from solid billet aerospace specification aluminium and feature bolt-on damper legs and a unique double shear lower control arm pickup that can easily be changed to a single shear pickup when required. To keep on top of costs and with easy maintenance in mind factory bolt-in wheel bearings and wheel speed sensors are used, which in turn house factory CVs.
While costs have been kept under control design has not been compromised. Brypar have developed uprights that are strong, light weight, cost effective and highly adjustable and configurable. What more could you want?
Bedding in brake discs or pads uses the same procedure and is recommended to ensure maximum braking efficiency and life from your discs and pads.
Bedding in of discs and pads ensure the two surfaces are perfectly mated. Allowing the discs/pads to slowly reach higher temperatures is essential in not only pre conditioning the disc but also curing bonding agents in the pad material. Allowing a new brake pad to reach a higher temperature burns off excess resin and moisture in the pad matrix while transferring some pad material onto the disc face, helping the 2 surfaces to mate and form an effective friction coefficient.
The Procedure
Always perform the bedding in procedure off public roads and follow any brake pad manufacturers specific instructions should they differ significantly from our own.
1. Perform 8 to 10 stops from 60km/h down to roughly 20km/h using a medium braking force, ensuring no locking or abs activation. If you are using new pads and discs you should feel a marked improvement in both feel and stopping capability. Avoid heavy braking as we are aiming to slowly bring the brakes up to temperature.
2. Next perform 10 – 12 stops from 100km/h down to roughly 20km/h using a heavier braking force but again ensure no locking or abs activation. The aim here it to get the pads and discs up to 80% of full racing temperatures. You may notice some fade here while the pad and discs surfaces burn off any excess surface coating.
3. Continue to drive to bring the brake temperatures down. It is not recommended to bring the vehicle to a complete stop until the brakes have cooled off. Excessive heat soak between a new pads and disc can cause warping and/or friction material damage.
After the procedure brake discs will appear to have a blue tinge or film and is a sign that the bedding procedure has been undertaken. Please note old pads and new discs, or old discs and new pads, may take longer to bed in due to surface mating inconsistencies. Running a second bedding in procedure is recommended once the brakes have cooled off after an initial run (up to 20 minutes).
NOTE: It is highly recommended that new discs should only be bed in with new pads. Also brake bedding in procedures may very depending on vehicle specifics and performance levels.
Following on from the successful launch of the Prime-R range of products Brypar is releasing the Prime-S range. Using the same technology and design philosophies as the Prime-R range of products, the Prime-S features less aggressive pad and disc materials.
Brypar's sports pad compound complements the unique Prime-S motorsport brake disc, the design of which is based off of the Prime-R range. Prime-S motorsport disc rotors use a specific casting material allowing the disc to operate at a high performance through a range of temperatures. Each disc is designed to be a bolt-on replacement for your OEM disc allowing the use of factory brake calipers. Featuring an CNC machined 6061-T6 aluminium disc hat, Brypar's discs are both lighter and more thermally stable than the competition.
Brypar proudly manufactures all its own products in Australia using locally sourced materials and suppliers. This ensures the highest standards are adhered to during the manufacturing process.
The Prime-S and Prime-R range of motorsport discs while similar in appearance and design philosophies have been designed to suit a range of motorsport uses.
Prime-S Motorsport Disc Rotors
The Prime-S motorsport brake discs use a specific mix of grey cast iron specially formulated to suit track day and light motorsport use, with great thermal stability through a range of temperatures. Featuring a straight grooved pad wiping face the Prime-S motorsport disc range is the least aggressive motorsport rotor available from Brypar and is solely available in a bolted 2 piece configuration. These discs share the same base design as their more aggressive counterparts, meaning the thinnest vanes available on any motorsport disc as well as fully optimised PCD placement.
The Prime-R motorsport brake disc has been designed with the most aggressive sprint and endurance racing in mind. While visually similar to the Prime-S range the Prime-R uses patent pending casting material formulated to handle high temperatures for extended periods. Available in a range of diameters, thicknesses, vane counts and aggression index, as well as mounting options including our own peg drive floating system. The Prime-R motorsport disc will handle all extremes.
In 2017 Brypar started on a journey to design and manufacture motorsport brake discs that could not only compete with the biggest names in the industry, but beat them. In order to succeed we needed to offer a superior product so we started from scratch. A clean sheet design using knowledge gained over the last 20 years, taking proven concepts, evolving them and in some cases completely rethinking the manufacturing process. The final product is nothing short of stunning in it's simplicity.
The brake disc is one of the most highly stressed components on any motorsport vehicle having to operate in extreme conditions. It is therefore paramount that vibrations and natural frequencies are cancelled out in order to allow a disc to perform at it's maximum. Cooling vane curves are shaped using epitrochoids, a mathematical curve. These help reduce any natural frequencies. Vanes are also numbered in prime configurations meaning the discs are naturally balanced. These simple yet superior features lead to a naturally damped disc that is less prone to vibration and stress which can lead to premature failure.
While we're on the topic of vanes, Brypar discs use the slimmest vanes on the market, leading to increased cooling flow and weight savings; critical when the weight is unsprung.
The Brypar Peg Drive system is elegant and simple. Gone are the days of spring loaded bobbins. Our simple system is light weight, incredibly strong and cost effective while allowing the disc to glide on the pegs.
To ensure the pad is always performing at it's best Brypar discs can be optioned with a unique pad face aggression index. The conical curves help evacuate hot gases and dust while ensuring inner and all portions of the pad face receive different equal levels of treatment. This allows the disc and pad to perform controlled efficient braking, extending pad and disc life. You, the customer, can choose the level of pad bite and aggression, from the straight right through to the Konic².
Brypar's patent pending material not only improves braking feel and performance, but also longevity and reliability. Why settle for anything but the best. We didn't come to compete, we came to win.
It's been 12 months in the making, but the new Brypar website has arrived, along with new additions to our upright range.
The new website now features a secure e-commerce system allow customers to purchase directly from the website meaning that no matter where you are in the world you will be able to purchase Brypar uprights and soon to be released brakes directly from us with fast international shipping via DHL.
Brypar are also proud to announce new uprights coming in 2017. These include the Honda S2000 range, early model Subaru WRX, Nissan Skyline and GTR + more to be announced.
Don't forget to sign up to our newsletter and let us know what vehicle you take to the track as we will let you know when products are ready for your specific vehicle.
When it comes to finding a set of motorsport uprights for your racing car there are always compromises. You can find something off-the-shelf. If you're lucky it might be 75% of what the vehicle requires, with compromises in geometry, adjustability, serviceability or weight. On the other hand if an upright is designed purely for your racing car it will meet all criteria, although it might cost you an arm and a leg. Having seen this issue time and time again Brypar have designed a modular upright with all key features in place. Having created Solidworks files so that basic parameters and key pickups can be quickly and easily changed, the outcome is that the vehicle gets the uprights it needs, rather than a compromised set. And the buyer doesn't have the expense of a custom set of uprights.
The modular nature of the design allows key wishbone pickup points to be altered, steer pickup to be included into the monobloc or as a separate bolt-on clevis in either top, middle or lower position. On top of this brake caliper posts or ears can be removable or as part of the monobloc. Bolt-in or press fit bearings from either BMW or Porsche allow a range of hubs, including centrelock units. The range of freedom is almost unlimited. Contact us today.
Lotus Australia and Brypar have joined forces to produce a range of bolt-on motorsport uprights for the Elise, Exige and Evora range of Lotus Sports Cars. Lotus is a name synonymous with motorsport, having been founded by the late Colin Chapman in the 1950s. Lotus has forever been know as the light weight sports car brand whose cars performance on track is unrivalled. Lotus competes in motorsport throughout the world at all levels, from track days through to Formula 1. Brypar is using its' expertise in upright design and manufacture to develop front and rear motorsport specific uprights, saving crucial unsprung weight, adding adjustability as well as allowing vehicles to be lowered to racing heights without major geometry changes; something Brypar prides itself on.
The uprights themselves will be designed to be manufactured from light weight aerospace materials, and using the latest FEA techniques ensure superior strength and stiffness whilst coming in significantly lighter than the OEM parts they are replacing. Brypar uses Solidworks Premium, provided by CAD Space in Sydney, for all CAD projects. This allows Brypar to use the full range of simulation and analysis features which equates to a highly optimised final product.
Simply Sports Cars (Lotus Australia) will distribute the Brypar designed uprights throughout the Lotus motorsport community world wide, a first for Brypar. For any information contact Simply Sports Cars or Brypar today.
Brypar have teamed up with Kumho series driver and team owner Brendan Strong to help develop a new upright for his Kumho series entry.
Strong has been a series regular for the last 2 years, but with the lack of spare parts available for his ex Lansvale/Kelly brothers VY V8 Supercar, he turned to Brypar after a chance meeting at the Shannons Nationals at Sandown raceway earlier in the year.
"We were chatting with Brendan about his car at the round and were shocked to find that uprights are not available for these cars, even through they were produced in large numbers at the time. Even the teams don't keep old CAD files", Peter Bryant of Brypar commented.
Brypar will re-manufacture Brendans current uprights, originally of HRT (Holden Racing Team) heritage, using their 3D scanning capabilities to help reverse engineer the uprights. Brypar's billet replacement uprights will exceed the strength, stiffness and weight of the current uprights, leading to performance benefits and lap time improvements, all while maintaining the same geometry, essentially being a bolt-in replacement. And the best bit, we will always have Brendan's files here if he needs another replacement or spare set.
Contact Brypar today and see how we can help keep your touring car on track.
Brypar recently visited the famous Australian motorsport team, Gibson Motorsport. Gibson Motorsport came to fame in the early 1980's as they race and developed the factory Nissan Skyline Group A cars (and previous to that the Group C Nissan Bluebird and Exa, the former holding the lap record at Bathurst for the best part of a decade). Our visit was not only to see these historic touring cars, including the legendary R32 GTR (Godzilla) that dominated touring car racing not only in Australia but world wide, to the point where the rules were abolished (Australia went to the 5 litre V8 rules, the rest of the world went Super Touring), but also to see what we could offer these old cars on terms of recreation parts.
Recreation parts is an area that Brypar have only recently begun. Older racing cars often used cast magnesium/aluminium or fabricated steel uprights. As these cars have raced for sometimes over 30 years, uprights can be a part that are difficult to replace is they are damaged or fail from fatigue. Brypar offer a recreation service so that these valuable, often irreplaceable parts, can be put on a shelf while the vehicles can continue to race knowing they won't be wearing out original and rare parts.
The process is actually very similar to when we create an upright from an exisiting vehicle. First we analyse the upright to make sure other parts such as bearings and hubs are readily available (or easily made). If we are satisfied that other peripheral parts are easily attainable we undertake a 3D scan of the part to get all the pickup points and key geometry. From there we create a CAD model that when finished will simply bolt in place of the original. As we are recreating this part normaly using a different material and process, stress analysis is carried out to ensure the safety meets or exceeds the original part.
Once a part has been machined it can be anodised, painted, or even sand blasted with a coarse grit for a cast-like appearance.
This service is available for any older race car whether it be a V8 Supercar, Group A car, or a vintage open wheel race car from Formula 1 to Formula Ford.
Get in touch with us today to discuss your project.
Late in 2015 Brypar was contacted by the team at Black Mamba IPVDX. Their championship winning Mitsubishi Lancer EVOlution having dominated the European Time Attack was going through a rebuild and upgrade in the off season and part of this upgrade was to feature brypar uprights which would alleviate geometry issues that so many time attack cars suffer from when using standard factory uprights.
Brypar used their standard Mitsubishi EVO upright, but with modifications to allow for the teams brake package to bolt-on without the need for adapters. This meant some cor changes to the design to allow the load paths through the upright to change. A slight increase in weight over out standard unit, but an overall saving meant the upright was 34% lighter than the current setup as well as having a stiffness advantage.
For more information about the Black Mamba upright click here.
Ask Brypar today about bespoke uprights for your race car.
At 15-years-old, Jennarong Muengtaweepongsa has created the new Koenigsegg Utagera Concept and unveiled it at the Bangkok Motor Expo. Yes, while most 15-year-olds are worried about learning how to drive a car, he designed one and has already worked with famous car designers.
The car, like all Koenigseggs, features a smooth and curvaceous design that is highlighted by the wraparound windshield. He's done a fanastic job taking Koenigsegg's design cues and utilizing them in this brand-new concept. Brypar developed some special one-off concept brakes for the concept which will now feature exclusively on the talented young designers future creation.s
Currently, he's hard at work creating different brand concepts and studying designs of multiple brands. The reason? He said he wants to find his own unique style.
What's next for him? He says the next design he'll release is the result of a collaboration with the ToBeUs toy car foundation and an Italian magazine. Be sure to follow him on Facebook and check out his website to learn more.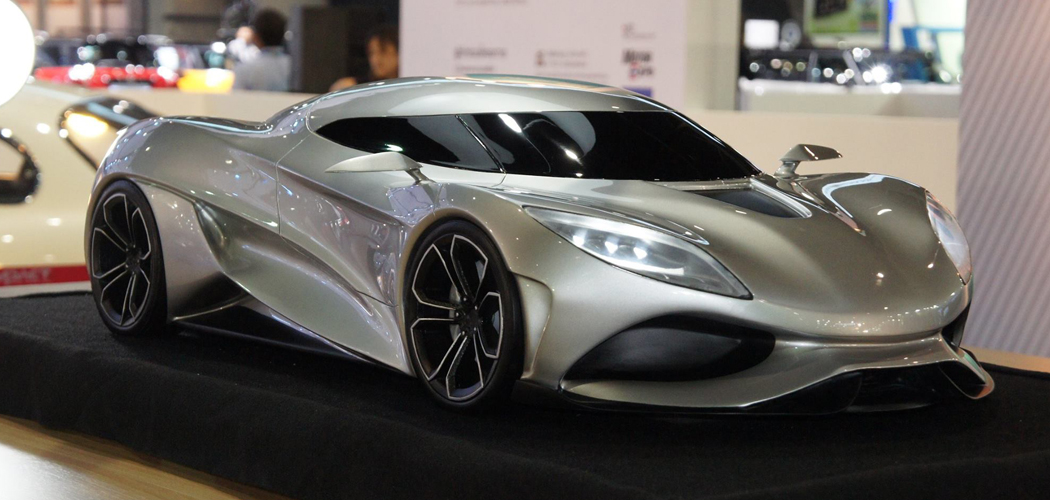 Brypar's Nickel plating as seen above.
Brypar have been developing and testing our own specification and design of brake calipers for the last 12 months.
Unlike a lot of new brake brands on the market, we started from scratch. We researched, we tested, we made mistakes. But unlike others who simply rebrand someone else's caliper, we designed from scratch every single element to ensure that we delivered the best caliper we could possibly deliver knowing every element inside that caliper was designed here in Australia by Brypar.
Unlike a lot of new brake brands on the market, we started from scratch.
Our Motorsport Calipers
Due to the special tooling required our first sets of motorsport calipers, a decision was made to manufacture them as a 2 piece design. We needed to ensure the critical seal area of the calipers were easily machined to the tight tolerances we required. Our own seals were manufactured locally from a unique European sourced motorsport grade material which offered better performance at elevated temperatures leading to longer service life as well as lower friction. Our pistons are machined from Grade 5 Titanium with built-in cooling cutouts – these help stop the heat transfer from pad to fluid. Other brands simply use caps on aluminium pistons – a cheap alternative. Finally we DLC coat the pistons for maximum durability. DLC coating is Diamond-Like Carbon – so our pistons will never suffer from scuffing. Behind the pistons sit stainless steel knock-back springs. Finally our calipers feature through cooling designed into the body to allow the caliper to remain cool in the heat of competition and our Nickel plating means the calipers remain durable and scratch resistant, unlike the anodising featured on many of our competitors.
While our range have taken longer than expected through the design and testing stages we now have an Australia made product that can proudly sit on the world stage. In 2016 we will be releasing a full range of billet monobloc motorsport brake calipers in materials that are usually reserved for Formula 1 and WEC. From open wheelers to fully fledged sports cars, from production racing cars to sports sedans, our range will have a caliper to suit.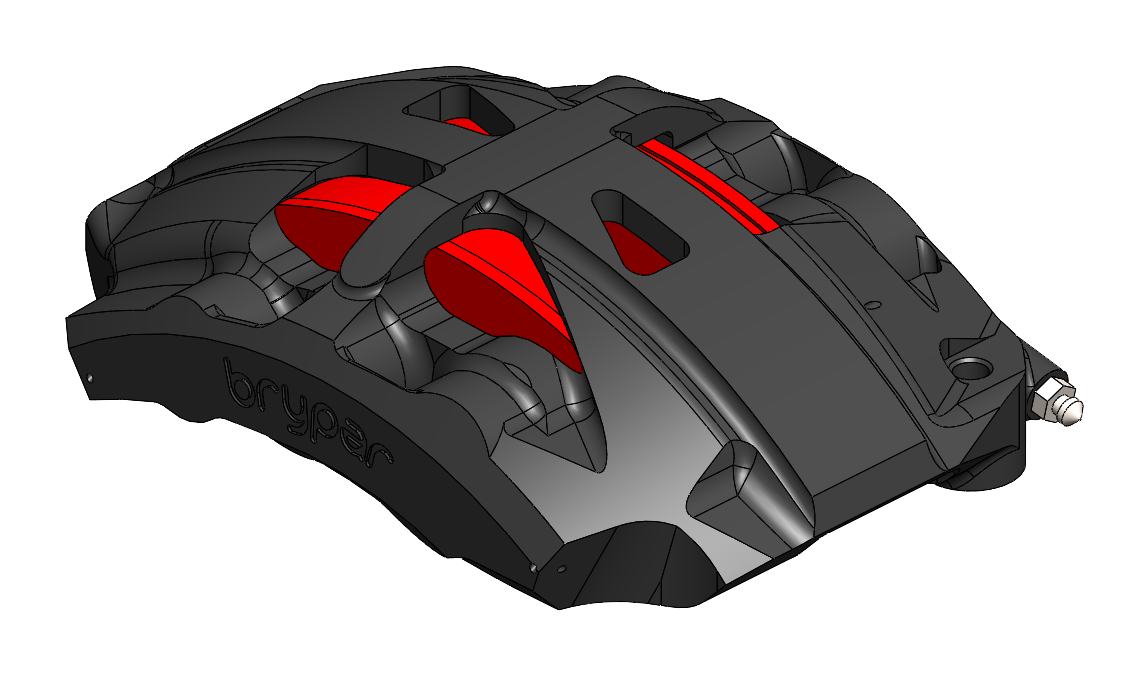 Our Road Kits
Brypar's road range of brake kits are an essential part of the Brypar brake line-up. Using the results from the research put into our motorsport brake calipers we have designed 2 road based brake calipers that feature any of the same design details as their motorsport relatives. Unlike many competitors so called road kits, ours are fully ADR approved for road use. Our kits come complete with fully floating discs, ADR approved braided lines, Australian Circo road/race brake pads and all other hardware required to bolt to your exisiting vehicle.
The brake calipers themselves feature internal fluid lines as well as cooling cutouts and the amazing Nickel plated finish. In 2016 these kits will be released to suit a small range of current models with more appearing as demand increases. Contact us today.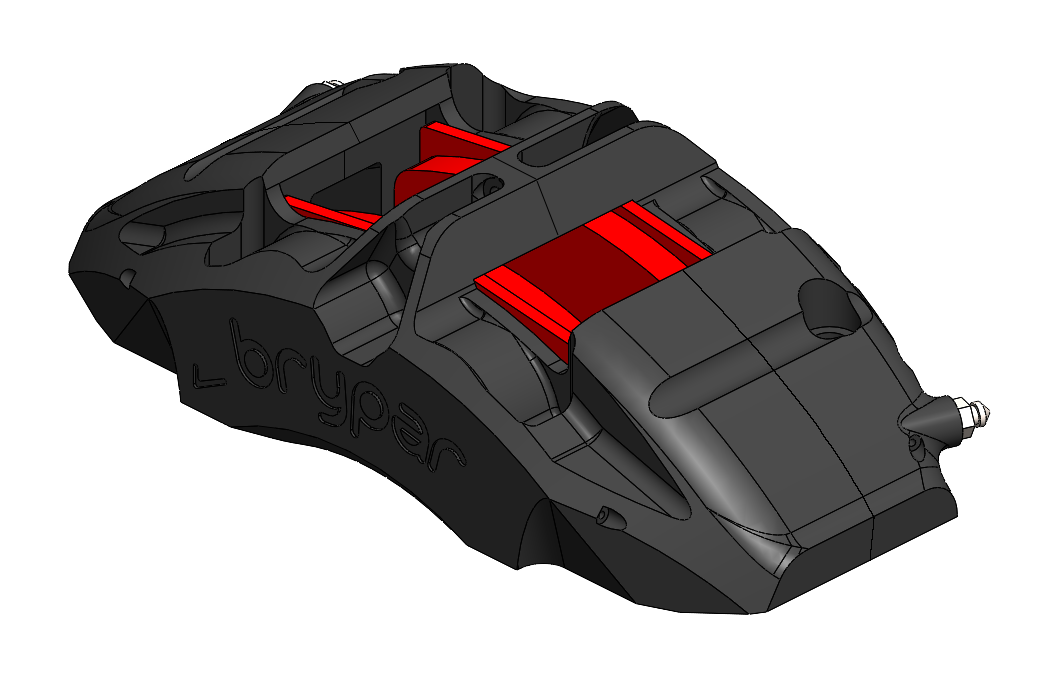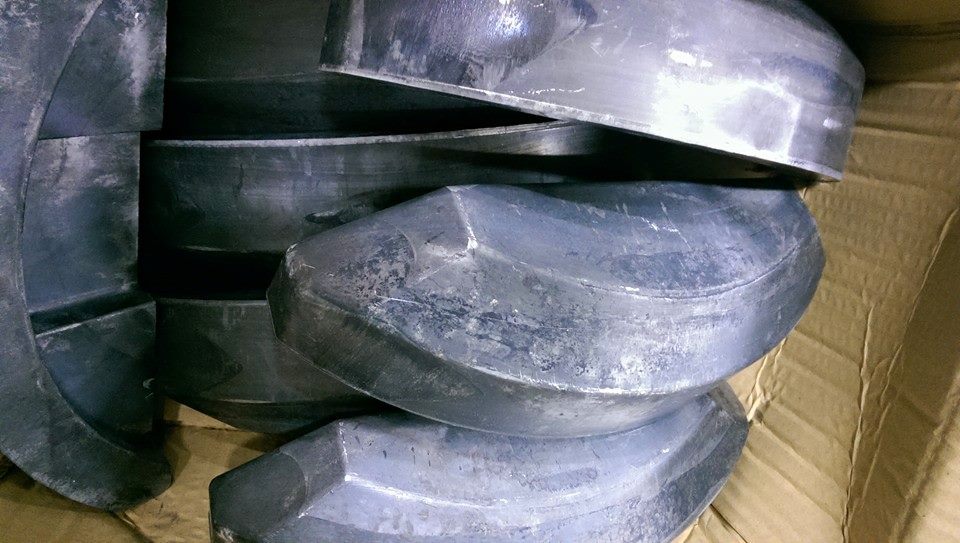 Late in 2014 after Brypar was formed we received a phone call from a potential customer enquiring about our universal uprights they'd seen at the 2014 World Time Attack Challenge at Sydney Motorsport Park. Little did we know this project would turn into one of the most comprehensive WTAC builds the world had ever seen. Initially we were to use our Universal Pro upright – a Porsche motorsport bearing housed upright aimed at the motorsport market, but due to the client having already purchased a complete set of brakes and hubs from a Porsche 991 Cup Car this meant there was no option but to design a set from scratch. Initially the brief was to design a universal centre section that could take a bolt-on steer arm, as well as bolt-on upper and lower mounts. We felt this type of design was too much of a compromise and offered a billet monobloc as a solution. Not only was the monobloc lighter, but it was much stiffer too.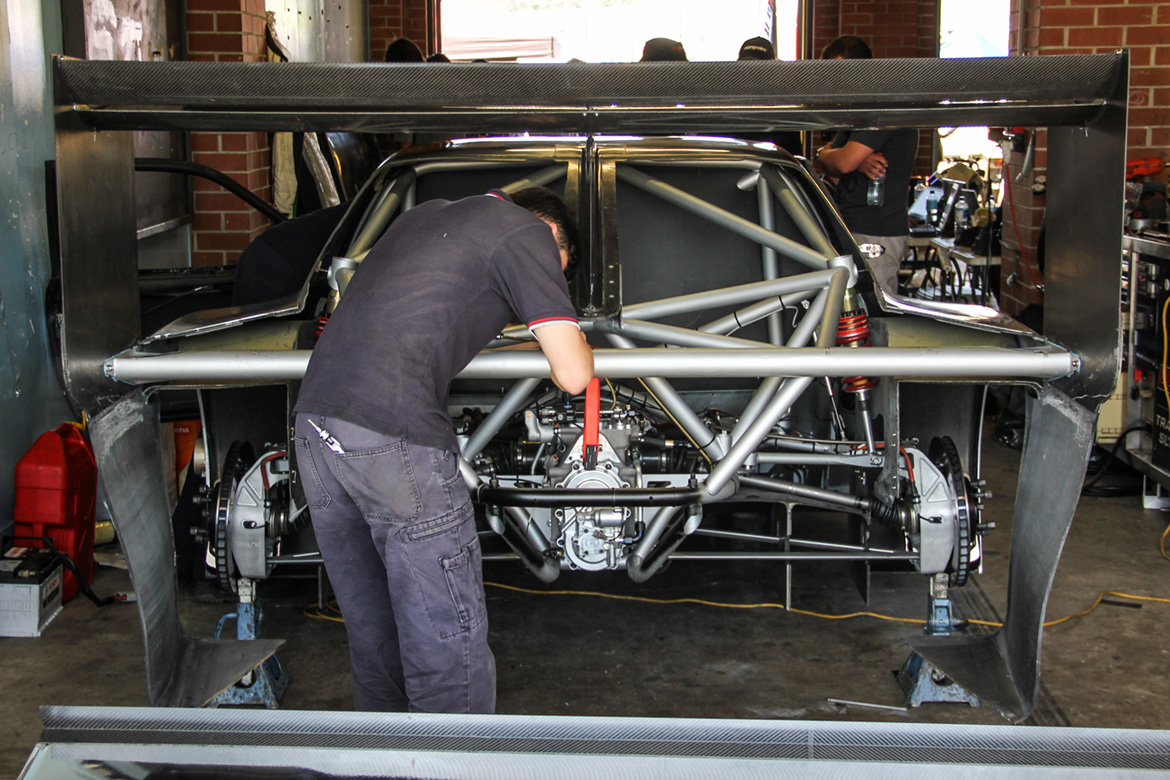 Envirage had specified their own data points for Brypar to work with, meaning we were not involved in the kinematics side of the project. Simulations allowed these point to be fixed with very limited adjustability available, this also saved weight in the final design.
The car was completed just in time for the 2015 WTAC and although it did not have a chance to run in full anger still placed 4th outright with a 1:26 lap time – amazing considering the car caught fire on Thursday, broke the rear wing on Friday and had engine issues on the Saturday. The Brypar uprights easily withstood the immense aero loads the car was producing.
We are currently working with a number of teams building cars for the 2016 WTAC, and we believe RP968 will be back in 2016 in a much stronger position ready to challenge for the title.